Virtual Learning
Virtual Learning at OLMP - Information Sheet for Parents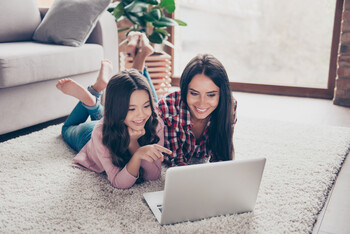 SUMMER 2020 RESOURCES FOR PARENTS: Please click on the following document here to find an array of learning resources for students during the summer break. 


Frequently Asked Questions (FAQ) Regarding Virtual Learning at OLMP 
We are well into remote learning and still have several questions being asked.  It is our hope this FAQ can answer some of these questions. If students are unable to engage in their studies for whatever reason, please contact the school (homeroom/teacher advisor preferred) so we can try to work out solutions or be in a better position to make decisions regarding learning. Please let us know how we can help.  If for whatever reason students have neglected to engage in their studies, it is never too late, we can always accommodate where we can. 
Question #1.      Can a student fail a high school course during remote learning? 
Answer:  Yes. Students who choose not to complete sufficient work after the period of time since remote learning began may be assigned "incomplete" on their work, ultimately resulting in a failing grade. Of course, it is our professional responsibility to make every reasonable effort to ensure a student experiences success and moves to the next level. Just as in regular school, these efforts include: 
Contacting the student 
Contacting the parent 
Alerting administration 
Having a meeting with parents/students virtually or over the phone 
Communicating the ramifications of incomplete work 
Question #2.      Does this contravene the government's direction that "students on track to move to the next level or graduate will do so"? 
Answer:   No. When a student is "on track," they must stay on track. Students were about 30% of the way through the course when remote learning began. If there is no effort on the part of the student to complete coursework, then they have "jumped off the track." We cannot legitimately assess that a student has the requisite knowledge and skills to progress to the next level. While we know that teachers will not be able to teach and assess all of the outcomes, they will be doing their very best to teach foundational outcomes that will ensure success next year. Engagement with these outcomes is essential to successful completion of the course and awarding of class credits. 
As always, extenuating circumstances are subject to the discretion of the principal of the school. Please contact your homeroom/teacher advisor and/or  the school if you have any questions.
Question #3.      Will the division be "freezing" high school gradebooks? 
Answer:    No. Some divisions made the decision to freeze teacher gradebooks as of March 16. In speaking with these divisions, this does not mean a student cannot fail or recieve a reduced grade. Students who do not participate in remote learning activities may still be withdrawn from courses. In EICS, we believe teachers are the people best positioned to determine a student's final grade. They will ensure that grading is accurate, fair, and valid. 
Question #4.      Are students required to participate in synchronous learning activities? 
Answer:    No. We cannot mandate any form of synchronous class participation, however, we strongly encourage students to take advantage of teacher "office hours" and "google meets" when they are offered and "Core support".  Teachers are devising instruction that allows students to receive instruction remotely and participate in teacher-designed learning activities. Different disciplines may have different requirements for demonstration of learning; teachers may need to explore alternative methods of engaging students. For instance, in a language course that requires oral communication and interaction, asynchronous activities such on FlipGrid, Canvas and Google Classroom could be utilized. These needs will vary based on course structure. Ultimately, if the student is satisfactorily completing the assignments, and the teacher is able to assess the student's knowledge and skill, this is sufficient for determining participation in class and assessing achievement.
Question #5       Do all teachers have to record themselves instructing? 
Answer:   No. In the same way that we utilize a range of teaching styles when regular classes are in session, so too can we use a wide-range of styles during remote learning. The better question is, "Are the instructional tools and learning activities meeting the needs of students?" If they are not meeting the needs of students, then this would necessitate a conversation with the teacher – just as it would during regular class time
Question #6       What if students are not participating in classes because they think they don't have to? (i.e. not participating in PE or options because the government said the focus would be on core)
Answer:   The Alberta government did not relax or change any graduation requirements during remote learning.
 Although the focus on core was stated in a news release, the student requirements for course credits at the high school level remain the same. Thus, if student participation is lacking, we will work with the parents and students to ensure that all stakeholders understand that school continues to be in session and that all courses require a degree of interaction and attempt at completion. Staff and admin have been working together since the start of the online school delivery to track and support students we know have not engaged. We are determined to reach out and find out how we can invite them back to a place of learning at any point. Circumstances in all families are different and some students may only now be able to participate in online learning. However., if we have learned through conversation and dedicated meetings that a student has chosen not to engage then next steps with the admin will be followed which may include removal from courses.
Question #7       What about CTS (high school) coursework such as foods or shop? 
Answer:   Students are required to be completing CTS course work if they wish to receive the total number of credits each course was designed to offer. CTS courses are made up of bundles of individual 1-credit courses usually in groups of 3 or 5. As such, students enrolled in a CTS credit as of March 13th, will achieve this credit if they were passing. Additional credits may be achieved in consultation with the CTS teacher and admin. In many cases, students may be able to exceed the planned number of credits a course was designed to offer by doing extra work.
Question #8       It's been over a month into this new learning method and I am feeling stressed and overwhelmed by all of this change, who should I turn to for help? 
Answer:   It would be great to connect with Student Services staff. Our counsellor, Youth Worker, and admin are all here to help students navigate this "new normal". 
As always your first point of contact should be to reach out to your child's Teacher Advisor (Homeroom Teacher) or course teacher if you require further clarification or support. 
Question #9: How much time will I be expected to be learning or completing schoolwork each week? 
Answer: As per direction from Alberta Education, in High School (grades 10 -12) a 5-credit course would be an average of 3 hours per week,and a 3-credit course would be an average of 1 - 1.5 hours per week. Grade 7-9 Students will average about 2 hours per week per course, for an average of about 10 hours per week. Students in grades 5 and 6 have an average of 5 hours of classwork per week. 
Question #10: If I was passing all of my classes on March 13th (the last day students were in school), will I get a passing grade no matter what I do the rest of the semester? 
Answer: Each student is responsible for completing their courses to the best of their abilities with the support of their teacher and other school staff. Our school is committed to ensuring all students pass to their next grade level, but their final grades will depend on individual circumstances and effort. 

Question #11: Can my teacher assign me readings / research / media to view / etc. outside of the hours per week guideline? 
Answer: Yes, especially for courses where this would be common practice normally, such as English and Language Arts  where, for example, a novel would be read outside of class time for a  "novel study project". 
Question #12: If I need assistance with a course, how do I access support? 
Answer: Sending an email to your teacher is a great start. If appropriate, teachers will access other school staff to assist students as well. 
Question #13: How will my grade 5 or 6 student be assessed?
Answer: Assessment will continue as it did prior to March 13th.  Communication around achievement and marks will be similar to before, with feedback on assignments. Levels of achievement will be maintained, or improved with teachers using a combination of pre-March 16th and online learning assessments. Comments will be very important in the ⅚ report cards. 
Question #14: In my class, I received the support of an Educational Assistant (EA). Will I continue to receive the same level of support? 
Answer: Just as teachers have moved online to delivering curriculum, so too have Educational Assistants moved online to support students or classes of students. This, of course, will look different from class to class and depending on the level of need in each class. If you have questions about accessing this support, please contact our Collaborative Response Coordinators (CRC):
High School:  Jaymie Reinhart  jaymier@eics.ab.ca  
Middle School: Lana Froehler lanaf@eics.ab.ca
Virtual Learning - Information Sheet on Final Grades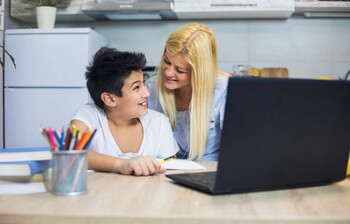 How Will I Get a Final Mark?
Information for the whole school
FINAL GRADES
Students will achieve marks in June that correlate to all courses/credits they were registered in as of March 13th and any they have added since that date in collaboration with their teachers.
Teachers are modifying curriculum, by decreasing outcomes in courses. Workload is reduced to emphasize outcomes critical to student development as they prepare for the next grade level. 
Marks will continue to fluctuate, based upon achievement on new assessments teachers assign virtually.  PowerSchool will continue to be updated to reflect assessments.

Teachers may use a variety of assessment tools: discussion boards, quizzes, assignments, videos, etc. 

Assessment will continue as it did prior to March 13th.  

For grades 5-6 (in PowerSchool):
only checked off GLOs will appear and graded SLOs will be visible.
Communication around achievement and marks should be similar to before with feedback on assignments

For grades 7-12 (in PowerSchool):

NHI (not handed in) / a placeholder zero will be used when work is not submitted.
Teachers will email the student, to inform them that they are still waiting on evidence of learning to input a grade.
Additional placeholder zeros will result in contact (email followed by phone calls) with parent(s)/guardian(s) if no evidence has been provided.  

Final grades in June will be calculated using assessments as well as teacher professional judgement to assign a grade that most accurately represents what the student knows about the outcomes covered.  
Final assessments (exams) will continue in your core courses. This may be in a variety of formats (online exam, portfolio, project, etc) - contact your teacher for more information.  
It is important to note that families will be at different stages in adapting to this new Virtual Learning environment and we recognize this.  Please connect directly with teachers if students/families need support or further modifications to their workload.  Specific circumstances may require a teacher to exempt the student from an assessment OR provide the assessment in another format.  
Your questions about high school answered.
CTS & WELLNESS COURSES
While the focus is on core classes and graduation requirements,  students will be invited to complete CTS & Wellness course work with reduced outcomes. 
Students enrolled in a CTS credit as of March 13th, will achieve this credit if they were passing. 

Additional credits may be achieved in consultation with CTS/Wellness teacher

Driver's Education course: This will be continued into the following school year when in-car driving lessons become available.
Work Experience: Students registered in this course will be granted credit on track with hours worked. 
IMPLICATIONS FOR POST-SECONDARY
We are awaiting updates from post-secondary schools on the admission process for Fall 2021.
High marks in 20-level courses (grade 11) may give you early admission.  

Applications open on October 1st, 2020 (Lakeland open August 1st, 2020). 
Your admission average (for university) is based upon:
English 20-1 (or 30-1 if this is complete)
Any grade 12 courses you have completed (Ex. Biology 30 or PE 30)
5-credit grade 11 courses (depends upon program).

Chemistry 20 / Physics 20 / Science 20
Social 20-1 / 20-2* 
Math 20-1 / Math 20-2*
Art 20 OR French 20-9Y OR PE 20
2-3credit courses at 30-level*
*Please refer to admission requirements for your specific program and school.
Please email Mrs. Reinhart for more information (jaymier@eics.ab.ca). Google Hangouts appointments are available to discuss post-secondary options further.
SCHOLARSHIPS/STUDENT AWARDS
Student scholarships and awards will still be awarded.